Discover Rembrandt is a retrospective of Rembrandt's complete oeuvre of paintings.
6 Jul thru 1 Sep 2019
Rembrandt and the Golden Age in 2019
Discover Rembrandt takes place as part of Rembrandt and the Golden Age, the national celebration of the life of Rembrandt and the Golden Age on the occasion of Rembrandt's 350th year of death. Among the participants in this event are also Rijksmuseum Amsterdam, Mauritshuis The Hague and Museum Lakenhal Leiden, Rembrandt's place of birth.

See the paintings as they once left Rembrandt's studio
With the help of the latest techniques and the inexhaustible knowledge of Professor Ernst van de Wetering, the most important Rembrandt scholar in the world, all paintings by Rembrandt have been digitally brought back to their original state, as they once left the painter's studio. Every period in Rembrandt's life and work is described and brought to life by means of the paintings and texts.

Approximately 350 paintings are now attributed to Rembrandt. Only 41 of them are in Dutch collections, the remainder have been spread over more than 18 countries. All paintings can be seen in Discover Rembrandt, superbly reproduced in their true size, including the more than 50 paintings which are currently not accessible to the public.

Discover the Night Watch in its original state
Highlight of the exhibition is the Night Watch, which has been reproduced in its original state, including the part that was cut off in 1715 to fit the new location in the city hall, now the Royal Palace on Dam Square.

Website
Contact website
Newsletter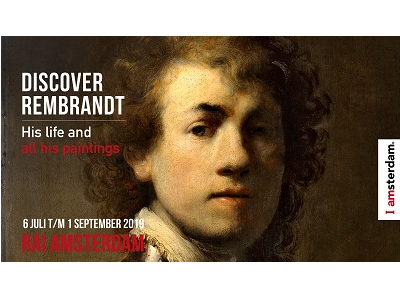 General information
Organisation:

Onderneming & Kunst

Locations:

RAI Amsterdam - Elicium Ballroom

Prices:

12 - 18 years €12,50 and 18+ €15