From Monday the 8th until Thursday the 11th of January 2018, Horecava will provide the ultimate platform for professionals in the food service industr
8 Jan thru 11 Jan 2018
It will be 4 full days of networking, exchanging ideas and business. Horecava offers a complete range of companies, the latest news on developments in the industry and a strong, diverse program. The ability to see and experience the products live, is the central focus of this year's edition.

Website
Contact website
Newsletter
Travel website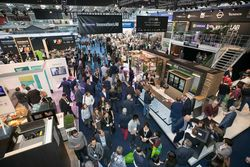 General information
Organisation:

RAI Amsterdam B.V.

Locations:

Halls 1. 2, 3. 5, 6, 7, 10, 11, 12

Prices:

Only professionals are granted access to the Horecava. The minimum required age is 18 years. Children and Babies are not allowed. The entrance fee is € 55,00 per person. A free visit to the exhibition: If you have recieved a registration code, you can register yourself for a free visit to the Horecava. Unfortunately, without this code, you will not be able to visit Horecava free of charge.
Opening hours
#
Opening time
Closing time
2018-01-08
10:00
-
18:00
2018-01-09
10:00
-
18:00
2018-01-10
10:00
-
18:00
2018-01-11
10:00
-
18:00